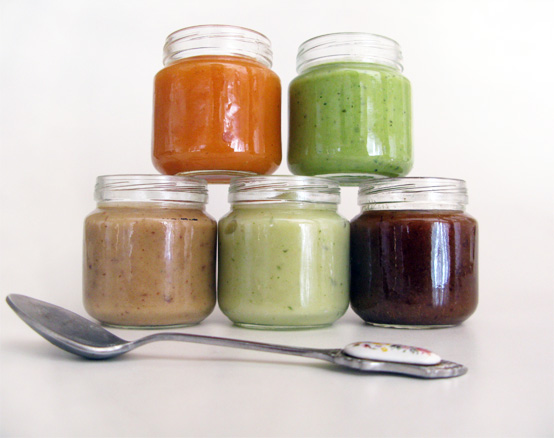 Prebaby: I knew nothing about making your own baby food until I was around 19 years old. I was working at Whole Foods as a cashier at the time when a fellow employee came in my line with a bunch of fruit and vegetables, as I rang her up we chit chatted for a few minutes. She told me she had go home and puree all the fruits and veggies she just bought for her baby because she makes all her own baby food. I remember thinking that this was the greatest idea I had ever heard and one day when I had a baby of my own I was going to make all of his or her own food too!
Pregnancy: All throughout my pregnancy the plan was to make my own baby food for Chloe when the time came for her to start eating solids.
At 7 1/2 months in:
When Chloe was around 3 months old I started researching more about making your own baby food, I wanted to know everything there was to know about starting solids when the time was right for us. That's when I learned about
Baby Led Weaning
. Both Mike and I were really interested in it and decided we wanted to at least give it a try. Now here we are at almost 8 months old, doing a combination of blw and jarred baby food. Chloe is one of those babies that just has no real interest in food and the only thing she wants is to nurse. I know that this is normal for some babies, and that food is just supposed to be for fun right now but I still cant help but feel a little worried. We gave Chloe baby oatmeal for the first time a few weeks ago and she loved it so I decided to try giving her a few different kinds of jarred pureed baby food as well to she if she likes food better that way. Chloe still doesn't seem crazy about food yet but she will eat a little bit of the purred food which is an improvement for her.
It's easy for me to feel like I failed when things don't go as planed. I'm learning that each child is unique and different in his or her own way and that parenthood isn't about following a set of rules, parenthood is about doing whats best for your child. What worked for others might not work for you and sometimes you just simply have to improvise and be ok with going with the flow!